RS 261 + Cutting Unit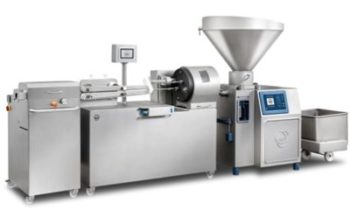 The new system for the production and the automatic separation of sausages and other twisted products.
The new Risco sausage Twin Head Linking system RS 261 with cutting unit ensures high production of fresh sausage, hot dogs and other twisted products, filled in natural, cellulose or collagen casing. The RS 261 model features an integrated twisting system and pairs with all servo-controlled Risco vacuum fillers. The implementation of a double twisting head allows for a significant increase in production and reduction of the idle times. While the first filling nozzle is operating, the operator can load the casing onto the second one in stand-by, without interrupting the production cycle. A pair of vertically adjustable belts allows to calibrate the length of the sausage and assist during the product-filling phase. The product is then conveyed to the WT05-R cutting unit that separates the portions individually or in multiple rows or sausages, throughout a servo-assisted rotary blade. All the operating parameters, including those of the vacuum filler, can be controlled by an integrated PLC and colour touch-screen panel.
Main features
Flexible use with different types of casing
Maximum precision in the separation of the portions
Perfect closing of the cut ends
Easy disassembly of the components for cleaning
Operating parameters and functions managed by HMI
Technical features
Product length: 1000 mm max
Portioning speed: 700 PPM
Casings diameter: 18-42 mm