RS 260 + Cutting Unit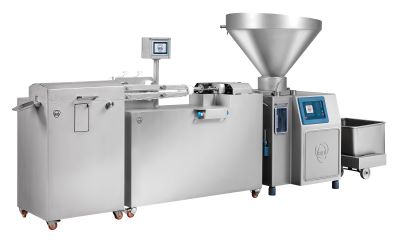 Effective twisting and in line cutting production system, for even portions in weight and length.
This Risco sausage line consists of a servo-driven continuous vacuum filler, the RS 260 twisting unit and the in-line cutting system. The automatic release movement of the filling pipe grants the utmost efficiency to the line. The new casing stick can be loaded onto the pipe in a quick way and consequently the filling pipe can easily move into the filling position. Without any manual intervention the row of sausages is gently conveyed to the cutting module. The Risco cutting  machine ensures a marked separation of the sausages, leaving identical and precise portions, neatly sealed at the ends. Above all the automation of the entire process results in a significant reduction of non-productive times and a reliable production of excellent fresh products.
Main Features
All the production steps in a compact line
Maximum precision in the portion separation
Consistent production results
Tried and tested product separation system
Utmost flexibility in changing product diameter and length
Technical Features
Product length: max 1000 mm
Portioning speed: 700 PPM
Casing diameter: 18-42 mm